Pack: Black Lite / Black Pro
Allowed profile: Brand manager
Le New Black provides access to a network of retailers registered on the marketplace and holding an all-access. As a directory, this page can help you to identify retailers who might be interested in carrying your collections. You may send a limited number of request to connect with retailers based on your pack.

The platform is first and foremost an order-taking tool and a digital showroom which offers the ability to showcase your collections. Sending a connection request does not guarantee any response or purchase from the selected retailer.


Accessing the retailers network page
To access the Retailers network page, you may go to the Customers menu > Network section: Retailers network.

You may use the filters on Countries, Segment and Type of store (online retail shop, department store, buying office etc.) available on the left-hand side to focus your target.

The horizontal tabs allow you to narrow down your search by collection types: Men, Women, Kids or Accessories.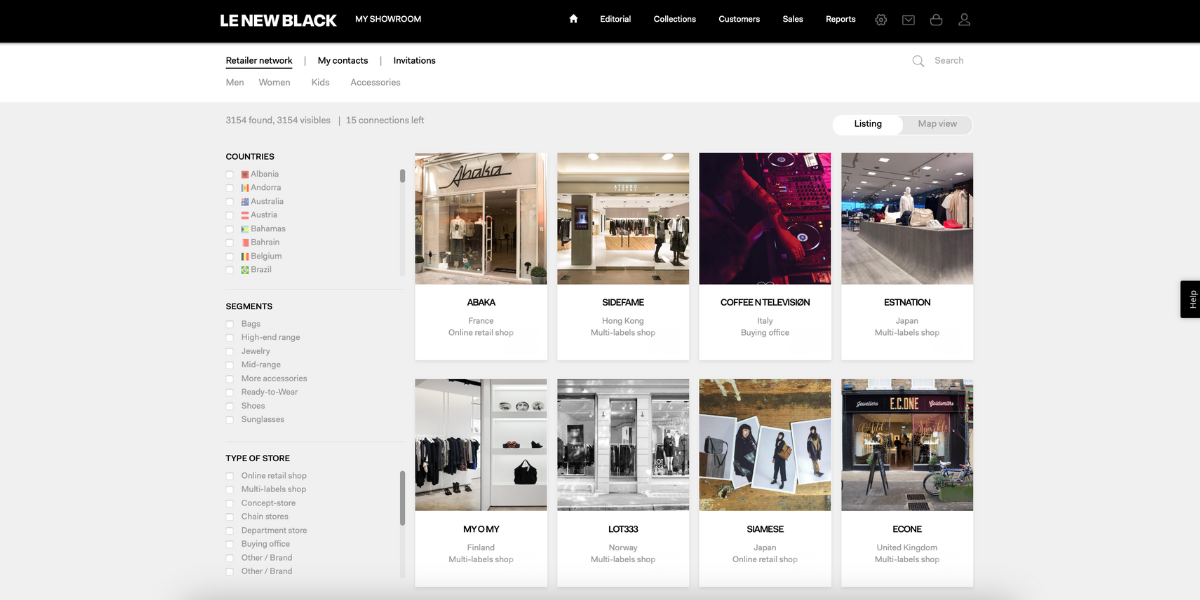 Connecting with retailers
To connect with a retailer:


Go to the Customers > Network section: Retailers network


Click on the retailer you wish to send a connection request to


Click the Connect button

A limited number of connections is available to you depending on the pack you are subscribed. As a Black Lite brand you have 5 connects available / month and as a Black Pro you have 10 connects / month available to you. Please contact your account manager if you would like to increase the number of connects.

When a connection request is sent, the buyer can view it by going to the menu Brands > Connection requests > Received requests tab.

A connection request does not guarantee a response from a retailer. The key retailer information such as social networks displayed allows you to contact them outside the Le New Black platform.