When buyers are not sure which size they want to order, they can fill bulk quantities when placing an order by clicking on the "Bulk" button.

An order with bulk quantities cannot be confirmed by the brand. The bulk quantities are always highlighted in yellow in your Orders pages.

The buyer or the brand may edit the order to add quantities in the each desired size. Once it's done, the brand will be able to switch the order in Confirmed status if needed.


Confirm an order with bulk quantities as brand member
Navigate to the menu Sales > Orders


Enter the desired PO


Click on the EDIT PRODUCTS button or in the warning message


Click on the SET QUANTITES button at the bottom right


Click on Sized next to Bulk on the desired reference in the QUANTITY column, it will display the size boxes


Add the quantities in each desired size and click on SET BUYER & TERMS to proceed


Click on REVIEW then SAVE AND CLOSE


Click back on the PO number and you may now click on Confirmed status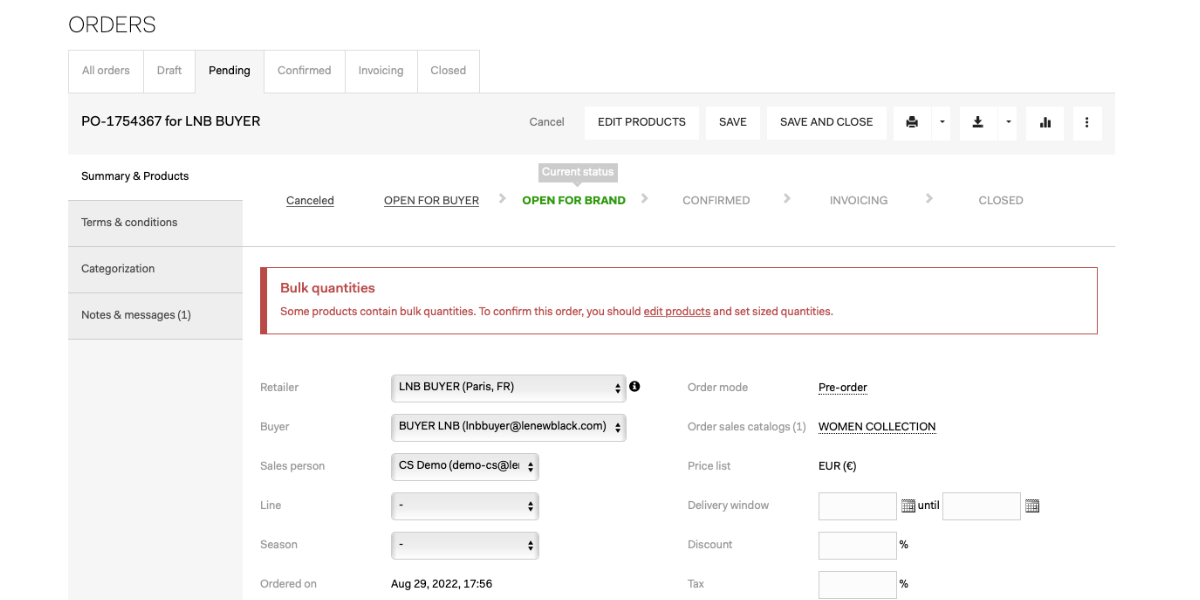 Confirm an order with bulk quantities as buyer
Navigate to the menu Orders > Orders


Enter the desired PO


Click on the EDIT PRODUCTS button or in the warning message


Click on the SET QUANTITES button at the bottom right


Click on Sized next to Bulk on the desired reference in the QUANTITY column, it will display the size boxes


Add the quantities in each desired size and click on SET BUYER & TERMS to proceed


Click on REVIEW then SAVE AND CLOSE