A selection allows you to discover products chosen by the brand. To simplify your order-taking process, a brand can send you a selection of products you may like. You can then create an order from it.


Find a selection
You can access a selection from your buyer account from the Selections menu, from your LE NEW BLACK mailbox, or from your external mailbox.

- From the Selections > Selections menu: click the reference to open the selection
- From your LE NEW BLACK mailbox or your external mailbox: when you receive a selection, you will be notified by email. You can open the notification and click on the View selection button to access it


To download the selection as a PDF file or to print it: you may enter the selection to find the PDF button and the Print button.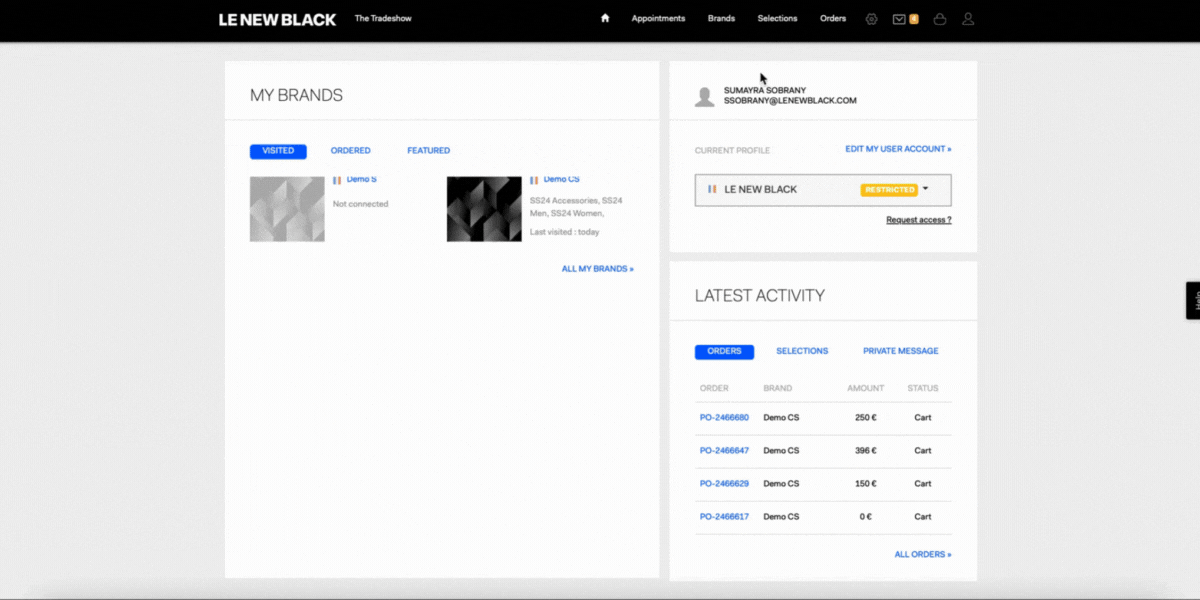 Create an order from a selection
You may create an order from a selection by following the steps below:


Open the selection from the Selections > Selections menu or your LE NEW BLACK mailbox / your external mailbox (you can refer to this article to find out more about how to find a selection)


Click the Create an order from selection button. If you are viewing the selection from the notification sent to your external mailbox, you would need to log into your buyer account by entering your password in the Please sign in grey box and clicking on View & Edit Selection


Fill in the quantities by size for the products you want and click the Remove button to remove any products you don't want to order


Click on Checkout to check your details. You can correct your billing address and delivery address by clicking on Modify


Click on Review Order to proceed to the Order Verification stage


Tick the terms and conditions box and click Send Order

The brand must confirm your order to be finalised.