Le New Black allows you to display the inspiration and story behind a collection using a variety of content such as images, texts, downloadable files, as well as a customized editorial offering you the possibility of creating blocks as you desire.


Customising the Discover page
The Discover page is a tab accessible from your showroom and is intended to present a collection. You can include several types of information and content on this page. The settings activated by default allow you to display the collection image, looks and categories. You may choose to deactivate them.


To deactivate the display settings :


1. Go to the Collections > Collections menu
2. Click on the relevant collection
3. Go to the Description, images & files tab
4. Deactivate the display of your choice
5. Click on Apply


To provide context or information about the collection, you can add a text to the Description field. It will appear on the Discover page, aligned on the left, and will be combined by the collection image on the right if integrated and the display setting activated.


The Discover page also allows you to upload downloadable files for your customers. For example, you may share look books in just a few clicks. You can include up to two downloadable files. You may refer to this article for instructions on how to upload these files.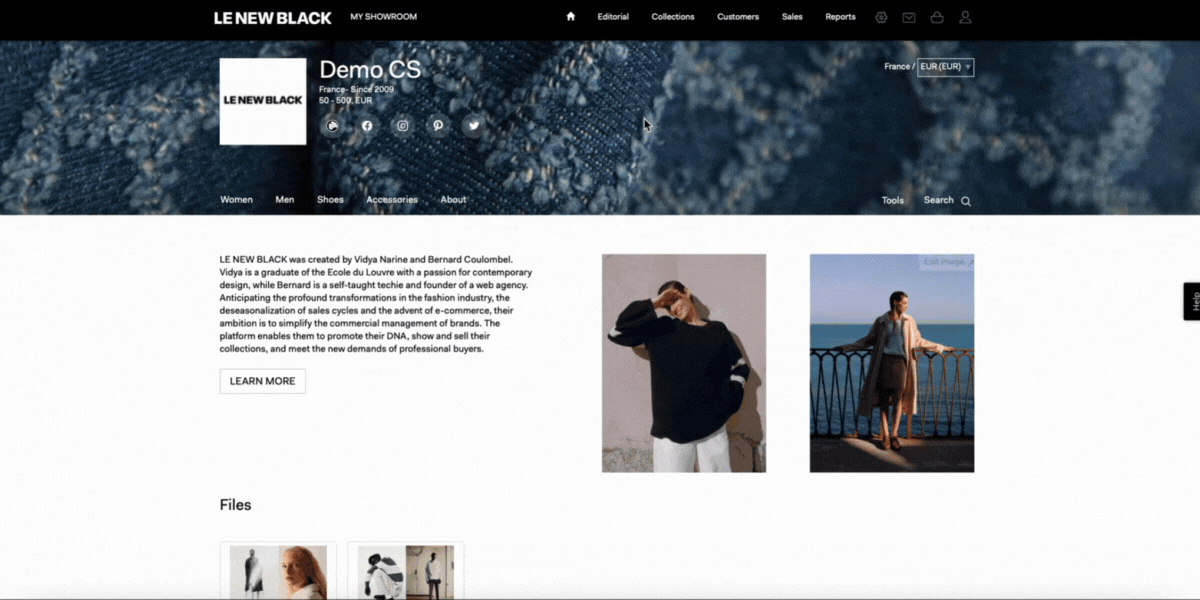 Adding personalised content to the Discover page
The Discover page can be customised to suit your needs by creating blocks to share your inspiration and information under different formats. The collection's editorial management provides you all the tools you need to do this.


Go to the Editorial > Collections menu or click on the Edit custom editorial button at Collections > Collections > relevant collection > Description, images & files tab.


Click on the Create a block button


Select the type of frame to create: text, image, video, text / image, text / video. You may find more details here on the dimensions and formats required


Name the block in the Internal name field


Select the collection you wish to customise


Select Preview status to see a preview that is not visible to your buyers. Select Published status to make the block visible to your buyers


Click on Create