Option required: Invoicing
Allowed profiles: Brand manager, Sales manager


A credit note is a commercial note sent by the brand to the buyer and it's related to a particular order and a customer. It is used as proof of the reduction in sales. You can create a credit note only when the invoice is in Open or Paid status.
A credit note can be served under the following circumstances:
An invoiced product has been canceled: if one or certain products are canceled, but the customer has paid for them. You don't have to delete and redo a new invoice, you can simply create a create note.
The customer returns the invoiced products:you should create a credit note for the returned products.
The customer overpaid for an invoice: you can issue a credit note for the overpaid amount.
The following parts will guide you to create a credit note from the beginning to the end.
Creating a credit note
A credit note allows you to refund an overpaid payment if required.
1. Go to Sales > Invoice > Open an invoice > Credit note section > + NEW CREDIT NOTE
2. Choose the invoice item
Click on the blue check to select or remove the product from the credit note. You can also add the description and price in the free lines.
3. Add the shipping fee in the credit note
To add the shipping fee in the column below if required. After finishing your credit note, clicking on Save.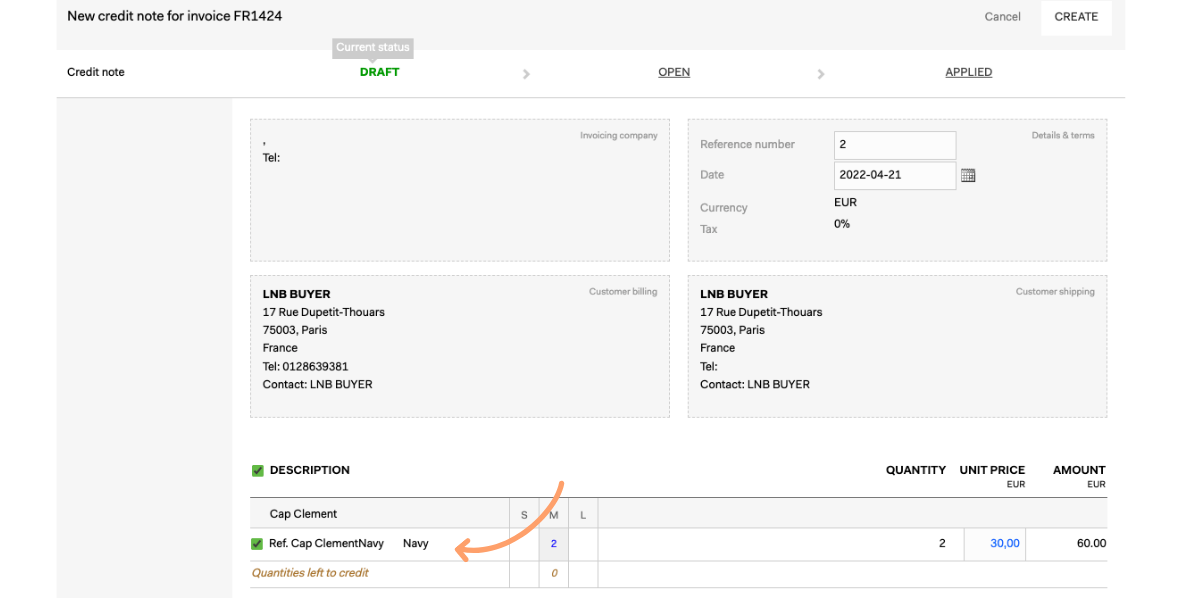 Managing the credit note status
A credit note has three status: Draft, Open and Applied. The default credit note status is set as Draft after created.
Draft
You may continue to remove the product and edit the details, such as the product quantity or add free lines, but you can't add more products from the invoice to the credit note. If you wish to do so, you will need to create a new credit note.
To delete the credit note or void the credit note by clicking on the button under three dots menu. Once the credit note is finished, move the status from Draft to Open.
Open
The detail is not able to be modified anymore and the credit note status can't be moved back to Draft. You can print it or export as PDF with/without product images by clicking on the printer button.
To send or delete it by clicking on the button under three dots menu. After refunding the overpay payment, you can move the status from Open to Applied.
Applied
You can export, print, send, void and delete the credit note. The status can be moved back to Open if needed.
| | | | | | | |
| --- | --- | --- | --- | --- | --- | --- |
| Status | Edit | Void | Delete | Save as PDF | Print | Send |
| Draft | ✓ | ✓ | ✓ | | | |
| Open | | | ✓ | ✓ | ✓ | ✓ |
| Applied | | ✓ | ✓ | ✓ | ✓ | ✓ |