It's been some time since the last release note, today we are back and we would like to present you some great improvements we made for Le New Black platform recently. For your customers, we release a whole new buyer dashboard to manage their orders faster, and a redesigned sign-in experience for an easier login. We also made great additions to the invoicing system. And we have been working on GDPR compliance to protect your data and provide you with adapted data management tools.
Buyers dashboard redesign

The buyers admin has been greatly improved to streamline their buying experience on Le New Black: they can now access their favorite brands, find their latest orders and resume shopping carts, all this directly from a fresh new redesigned dashboard:
Access their favorite brands
Find their latest orders and resume shopping carts

Read their latest messages

Discover new brands featured on The Tradeshow
New Sign In experience
Remembering logins and passwords can be hard sometimes, especially when you use many online services and have several accounts to manage. We wanted to make it easier for brands and buyers to access their Le New Black accounts, and released a new login experience that includes:
View the profiles already registered in this browser
When a user has multiple accounts on Le New Black, select a specific accountfrom the list of accounts
Show/hide password for easier typing
Invoicing with Le New Black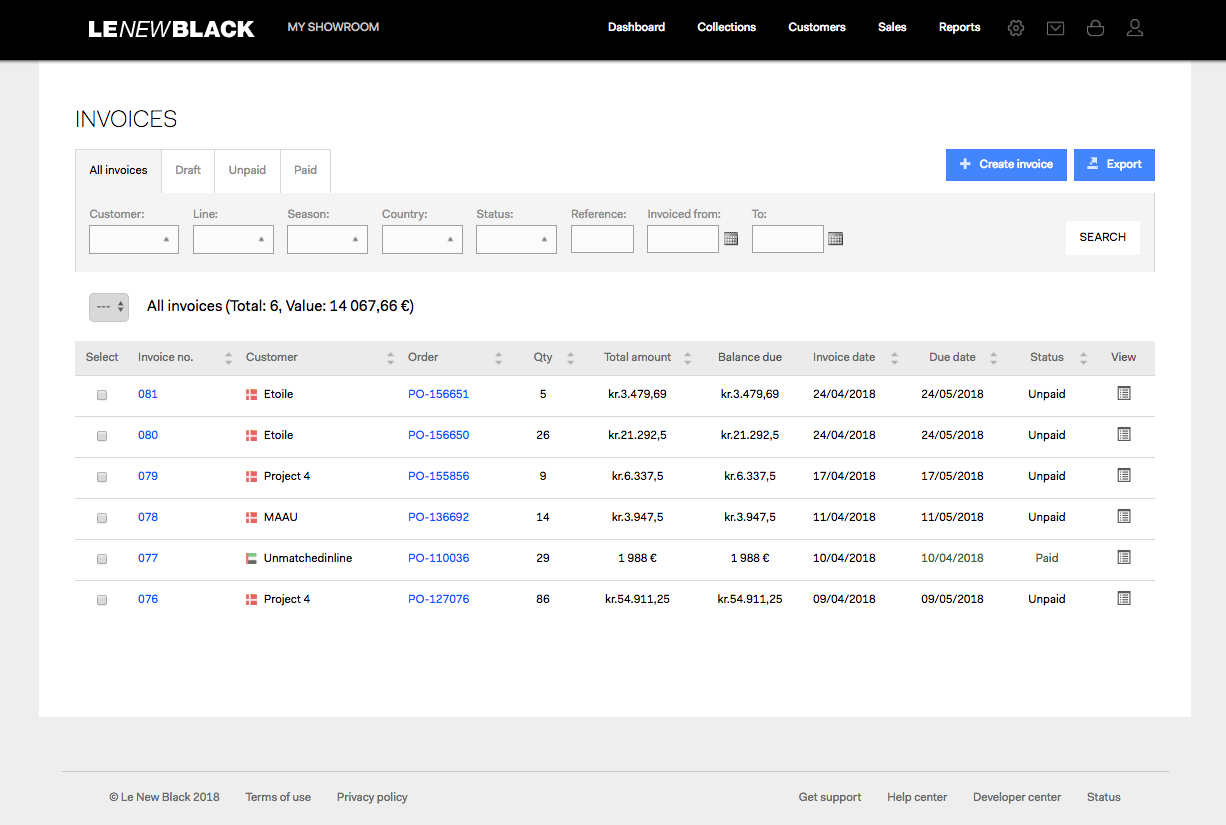 We have extended the invoicing module to let you invoice any items, even if they have not been ordered first on Le New Black. A new "Create invoice" button allows you to create an invoice from scratch. You may now use Le New Black for all your wholesale billing.
You can now add lines freely to invoice any extra products if needed.
Improved printable order and invoice views are now available, you can now choose between the version that includes products images and the simplified one.
Prices formatting in the main currencies (NOK, DKK, CAD, ...) has been fixed to use their respective official format.
GDPR compliance

The RGPD / GDPR for General Data Protection Regulation is an European law adopted in April 2016. This European reference text deals with the protection of personal data.
Respecting the RGPD, we are preparing to protect your data. On May 25, 2018, the RGPD will come into effect, LeNewBlack is preparing for this event to ensure the best security of your sensitive data