From fully redesigning the Marketplace to welcoming Zalando on board as an investor and signing with big accounts such as Kenzo, 2016 has been a big year for Le New Black. With a complete in-house force and a central position in the European fashion market, we will make 2017 even more thrilling!
The digitization of the wholesale industry is moving faster than ever, encouraging brands to rethink their B2B sales processes. Through its dedication to the fashion industry and a collaborative approach with its customers, Le New Black's mission is to build the best solutions for the fashion wholesale business. To keep you up to date on what's new on our platform, we will highlight in a monthly newsletter new features and improvements.
So what happened so far in 2017? A freshly launched knowledge base, an onboarding program to get you ready to use Le New Black key features and a new bunch of sales tools on iPad and web apps…
A Knowledge Base to help our fellow users
As a Knowledge Base is one of the most traditional ways to educate users, we have managed to pour all our expertise within different categories so that you can browse in between different topics, get to know the usage of each feature that we offer, be an independent user and make the best of your subscription on Le New Black!

The Onboarding Program
After 7 years of product development, Le New Black now offers quite a lot of features: a private web showroom to display products 24/7 in numerous ways, marketing, and sales tools for the web, an order taking application for your sales reps, reporting options, integrations and so on… Diving into a B2B platform may require more efforts than setting up a blog: our onboarding program reduces that gap by taking you by hand during your first steps in Le New Black.
We have created to-do-lists to train you as a Le New Black user by walking you through the platform's key features: importing product data, setting up your profile, inviting retailers, etc.
The program is designed in 5 parts:
Set up your brand profile: where you will learn to set up your showroom interface, your company details, and your sales settings.

Invite your team: where you may invite managers and sales reps to collaborate on Le New Black.

Import data: where you will import products, collections, materials, prices… in order to have an accurate representation for your buyers

Install and discover the iPad app: if you have the iPad app option activated, you will learn how to take orders, scan barcodes, sync your data with your web showroom...

Promote your showroom: you will learn how to send customers and contacts invitations to your web showroom.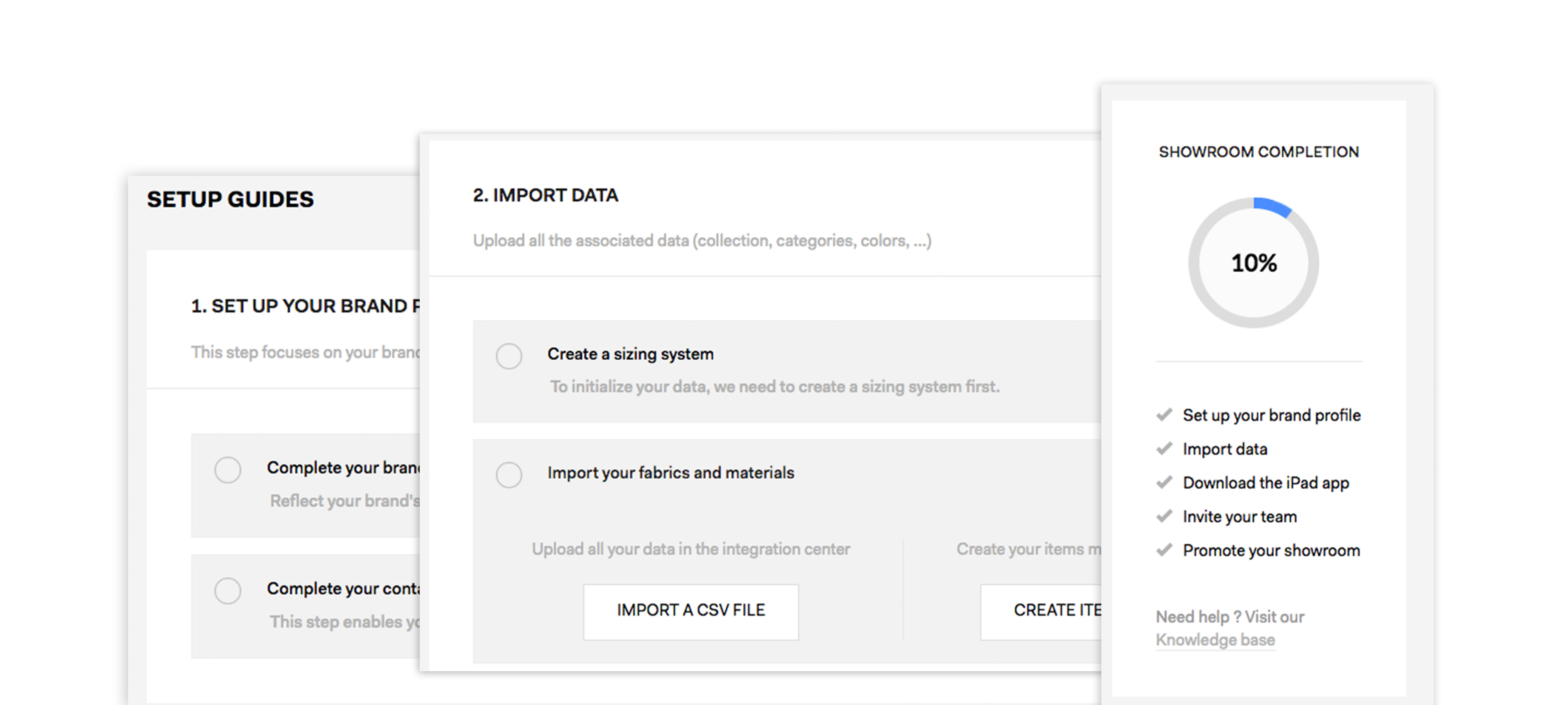 What's new in the Ipad app
Orders by Le New Black iPad app is now available in the Apple Store. Simply write « Le New Black » in the search bar and you will find it.
In addition to this more convenient distribution method, the Apple Store enables to have automated updates so you don't have to download it each time a new update is available. It will be done automatically!


Synchronisation
You now have the ability to sync the app manually with your web showroom data. Every update in the web showroom will be notified through a little red dot that will invite your to go to the « SYNC CENTER ».
Live Reports
Live reports will enable you to see the order split between the different categories and collections (this feature is also available in the web showroom, see below).
Order Templates
Order templates that you create on your web showroom can now be used directly on the iPad app when your take orders at showroom and trade shows.
You just have to select the template you want to use in the list and the products of the template will be directly added to your cart, where you can edit at your convenience.
*Apart from these features, we have come up with a bunch of innovations that will make your experience on the iPad application such as variation blocking, local saving, and some minor improvements that solved minor bugs and crashes.